Toddler Class Overview
The program for the toddlers at CLMS is kept small by design. The small adult/child ratio and class size ensure one-on-one interaction between staff and each child, and provide close and caring relationships between the children. The staff is aware of each child's developmental progression and is able to meet the needs of, and structure activities for, each child. The children form close friendships with each other as they literally grow up together.
Our program is designed to provide a strong connection with caregivers, so children moving from our infant program to the toddler group will still have the opportunity to see and interact with their previous caregivers. Recognizing the wide variety of abilities and interests for this age group the class of 9 children is staffed with 3 caregivers so we are able to offer stimulating play and social interaction which will promote growth both intellectually and emotionally at all levels. Having consistency, security and developmentally appropriate activities will help in the development and growth of self-assured, caring and giving personalities.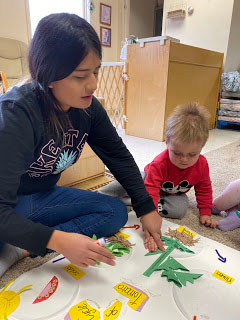 Our Toddler class offers an important link between the infant group and the more scheduled and structured programs designed for our preschool children. Children in this group are experiencing their first involvement in organizing their life with others in mind. Meals are served "family style", naps are scheduled for early afternoon, and there begins to be a schedule to the day for the group. Realizing the magnitude of this step of growing up is a focused aspect of this program.
GENERAL SCHEDULE:
7:30 - 8:30 Quiet play and breakfast served (often blended with Infant group to start the day)
8:30 - 11:00 includes inside and outside play, stories, art and music experiences, group activities & individualized focus learning
11:00 - 12:00 Lunch, lunch clean up, quiet play until naps
12:00 – 2:30 nap prep, book time, naps
2:30 - 5:15 includes inside and outside play, stories, art and music experiences, group activities & individualized focus learning.
Language Development
Toddler time is all about communicating, and language is developing at an incredible rate. The staff working with the Toddler group is helping advance language skills with songs, rhymes, reading to the children, teaching vocabulary, and modeling strong communication skills at all times. There are numerous opportunities for a language focus in the toddler room, including...
Social Interaction
Children in this age group split their time between wanting social interaction and "parallel play" where they are surrounded by friends, but highly concentrated on their own individual activity. Allowing, and respecting, the need for both of these is important in planning a day for toddlers. Our days are a careful blend of planned activities & free choice; developing independence & providing help, offering group activities & allowing individual freedoms. The staff is focused at all times on the developmental stages of each individual child as they guide them into a widening world of friends and activities.
Group Times
Group times for the Toddler group are short and engaging. Gross motor activities, finger plays, songs, 30 5:15 games, book reading and short presentations are all part of a group time for this age group. The children are encouraged to join the fun, but attention spans are growing and abilities are varied, so a group time may or may not include all students. Children not ready to join may be playing on their own or observing the group, there is great joy in watching as this skill develops.
Weekly Themes
Everything and anything is fun to learn about when you are a toddler and there is so much to learn when you focus on a specific topic. Through projects, songs, books, lessons, and conversation the toddlers focus on weekly themes that give them a connection to the world around them.
Imaginative Play
The imagination is all important for young children and our program is designed to encourage plenty of imaginative play. Dress ups & dishes, blocks & cars, animals & trains are available for children to play with a friend or on their own.
Other Learning
Learning is everywhere and in everything for a young child, but in this group the first introduction to a structured learning activity is introduced. Materials are on the shelves for children to choose from, including activities that promote development in sensorial, language, practical life, number and letter concepts. Teachers are working with each child at a level to move him/her forward in learning at a gentle and challenging pace.
Motor Skills
Large & small motor skills alike are focused on in the Toddler group. Children are enjoying the new abilities they are acquiring as they refine and widen their motor skills. Large muscles are developed through Yoga activities, movement to music, balance beams, tunnels, and jumpers Small motor activities include self-help
skills like independent eating and dressing as well as activities to learn pencil grip and scissor use.
Outside time
Fresh air and exercise are so important to growing minds and bodies. The Toddlers enjoy their outside space for morning and afternoon play times each day. Weather is watched carefully and outside times may be shortened (or eliminated) if weather requires it, but most days find the toddlers at play outside for at least a short time.
Diapering/Toilet
Training Diapering is done throughout the day on a scheduled basis (after meals, mid-morning, coming in from outside times, etc), as well as an "as- needed" basis. For some of our little people this is the group where toilet training starts. Here again, each child is on his/her own path and the "right time" is different for each of them. Staff and parents work together to decide when the time is right for this big step of growing up. The process can be slow or quick, but there is bound to be plenty of laundry as accidents happen as progress is made. The Toddler staff works closely with each set of parents to make this a successful event.
Toddler time is a wonderful time of growth & development in physical, social & academic abiltiies, and personalities really take shape! Let us know if you have any questions or would like to discuss your child and the toddler program at CLMS